Signing Day capsule: DeJuan Ellis
Not a HokieHaven subscriber? Join today to see our content over the course of the entire recruiting cycle, along with our in-depth game coverage, analysis, and much, much more!
One of VT's earlier commits - then not a commit, then back - was Owings Mills (Md.) McDonogh athlete DeJuan Ellis.
Now, the 5-10, 148-pounder is officially signed, and will join the Hokies in the Fall.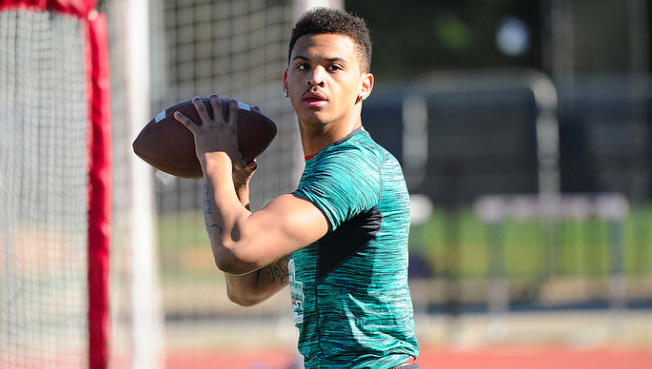 Rankings
Three-star, No. 22 player in Maryland
Other suitors
Illinois, Maryland, Rutgers, Syracuse, Temple, Wake Forest
Recruitment story
Ellis's initial recruitment was simple: he visited Blacksburg multiple times, the Hokies were the favorite, and he committed. However, thing were complicated later in the process. A high school quarterback, he decided to step back and evaluate his options as a position-less "athlete," and that also included decommitment from the Hokies. After just a couple weeks on the market, however, he realized that whichever position he wanted to play, VT was the school he wanted to do it for.
Game breakdown
Ellis is actually a very accurate high school passer, but his 5-10 height was always going to be a limiting factor there. He is a blazing fast athlete, with laser-timed 40-yard dashes in the 4.4-second range. He played a little bit of receiver and a decent amount in the secondary this year, and he showed an aptitude for each. His pure athleticism is going to be the primary asset for either, though there will be some adjusting to a new position no matter what.
Statistically speaking
McDonogh was 6-4. In seven games, Ellis had 320 rushing yards, 737 passing yards, and 80 receiving yards. He also had 10 tackles, one forced fumble, and eight PBUs on defense.
Film