Three-Point Stance: Jadyn Davis, Michigan adds 2023 DB, 2025 rankings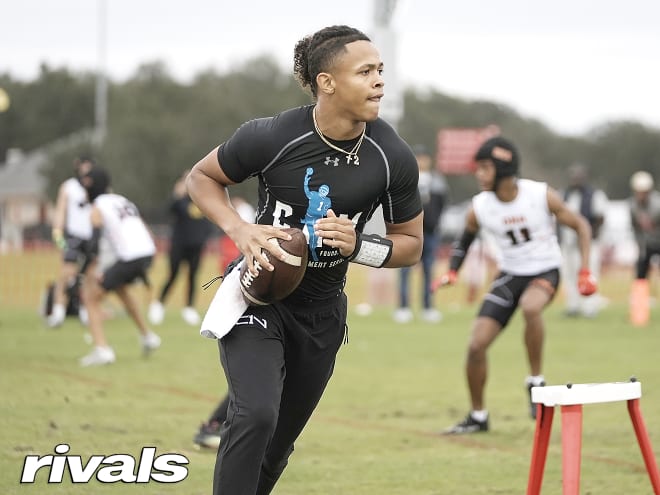 Rivals national recruiting analyst Adam Friedman has thoughts on five-star Jadyn Davis, a new 2023 commitment and a few 2025 prospects who could end up highly ranked.
HOW MUCH LONGER WILL FIVE-STAR JADYN DAVIS WAIT?
Davis was in Ann Arbor again this weekend and all eyes were on him. The Wolverines have been the big favorite to land his commitment and it's led to most people believing it's more of a "when, not if" situation.
That may still be the case but, quietly, a few people have been questioning whether Michigan would begin to seek other options at quarterback if it didn't at least get some reassurances from the Davis camp. It wasn't a "make or break" visit for Michigan but the longer Davis holds out, the more pressure on the team to close the deal or find another quarterback for the future.
*****
NEW HOME FOR BRANDYN HILLMAN
Notre Dame endured the loss of five-star safety Peyton Bowen in the 2023 class and the Irish lost another one earlier this month when they let Brandyn Hillman out of his NLI. He committed to Michigan on Sunday.
It's a big win for Michigan because the Wolverines didn't sign very many defensive backs in the previous class so getting Hillman onboard should fill a need. This has to really sting because Hillman is a very interesting prospect due to his versatility. He can play on offense as a running back or receiver. But he's also a high-potential player as a defensive back. He's got good speed coming downhill as a defensive back. He's really impressive in run support and plays physically.
It'll be interesting to see how he can quickly adjust to the college passing offenses and really learn to cover in the back end. He hasn't played against elite competition so there will be some adjustments to ensure that he can effectively cover the middle of the field and even match up with slot receivers or tight ends.
*****
FIVE 2025 PROSPECTS THAT COULD RISE IN THE RANKINGS
If the number of texts, phone calls and DMs that were sent to me are any indication, the 2025 rankings release last week had everybody's attention. There is still so much scouts around the country will learn about the 2025 class in the 23 months before the rankings are final.
That being said, there are a few 2025 players from the East region who could prove to be underrated. Here is a look at five of them:
It won't be long before McClary has the attention of college programs around the country. The 2025 linebacker out of Jersey City (N.J.) Snyder has an impressive 6-foot-1, 215-pound frame with great speed, quickness and instincts in coverage.
Visits to Ohio State, Penn State, Oregon, South Carolina, USC, Michigan and Notre Dame are in the works.
Dorilas is a versatile athlete who can impact the game at receiver or in the secondary. At 5-foot-11, Dorilas isn't very tall but his long arms help him make plays most people his size couldn't. He has good speed in the open field and closes on the ball well when it's in the air.
There is a lot to like about his potential as a cornerback or safety. Dorilas was at Penn State this weekend and there are more visits being planned.
Winston doesn't necessarily stand out physically but he will get your attention when the ball is snapped. At 6-foot and 180 pounds, Winston is one of the fastest players on any field he steps on.
From his safety position, Winston uses his impressive speed and quickness to cover the deep center of the field and coming downhill to make stops close to the line of scrimmage.
It will be interesting to see what this spring holds for Winston, who already has offers from Tennessee, USC, Nebraska, Maryland and others.
Very few prospects can match Williams' potential. The 6-foot-6, 250-pound lineman out of Virginia is a great athlete for his size and could end up playing defensive end or offensive tackle.
Williams needs to fill out his frame and refine his technique but if he puts it all together he could be one of the top players in the state.
Penn State is his latest offer, joining the likes of Maryland, Virginia Tech, West Virginia, Duke and East Carolina.
St. Frances Academy has churned out top defensive linemen for years and Smith could be the next one up. The defensive tackle is strong, quick and does a good job in pursuit. This year he'll be the focal point of the St. Frances defensive line and it will be interesting to see how he performs with the target on his back.
LSU, Miami, Penn State, Tennessee, USC and many others have already offered Smith and are tracking his development.