Thomas leads the way in Spring Game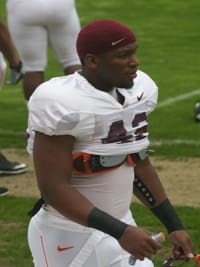 Virginia Tech wrapped up practice on Saturday with the Maroon versus White Spring Game. The vast majority of the starting offense along with quarterback Logan Thomas led the Maroon team to a dominating 27-0 victory.
Thomas completed 10-of-21 in the scrimmage for 131-yards. For the most part it was a good day yet again for the Hokies starter who was unfortunately the victim of a few inopportune drops and deflections that resulted in a pair of interceptions, one going off the chest of Corey Fuller, the other popped out of Marcus Davis' hands to Cris Hill. Outside of that, Thomas played well, throwing some outstanding strikes, he occasionally threw off his back foot, but overall was very accurate and on target, no more so than a perfectly executed 21-yards touchdown strike in the second quarter to Marcus Davis where he got just a step on Hill. Thomas showed good poise yet again and even some elusiveness rushing for 46-yards including a 31-yarder. He even recovered a fumble by Wiley Brown on one play. Not to be overlooked was the toughness as well, taking a shot from James Gayle despite a yellow protective jersey, going out and coming back two plays later.
The backup quarterback position is heating up as Ju-Ju Clayton continues to struggle completing 3-of-10 for 27-yards and two interceptions. One of the picks looked like a miscommunication, but the second looked like a poor read. It didn't help that Clayton was under pressure much of the day taking four sacks.
Mark Leal helped himself and now must be in the conversation for the backup job completing 3-of-6 for 34-yards. The statistics don't show it, but Leal looked like a much more confident quarterback dinking and dunking passes. He is struggling outside the pocket though as he netted negative three yards on the ground and was under constant pressure too. Trey Gresh saw a bit of time completing 2-of-4 in spot duty, he does have some legs though taking off on a 13-yarder.
The running back position didn't see big performances as David Wilson was gone for track and lanes were few and far between on Saturday. James Hopper posted the biggest run on the day from the tailback spot with 11-yards and finished with 29 total, but lost one fumble. On the other side, Josh Oglesby got his shots and though he took it five times, saw little room and the holes collapsed quickly, whether that's on him or the line is up for debate, he dropped a pass as well, this job is certainly going to be a battle for the fall.
A number of the backups saw time in spot duty, Greg Gaddell, a walk-on impressed with a nice 10-yard reception and showed some power running in very late duty, he did lose a fumble though. Daniel Dyer was productive with 17-yards and Justin Ryals saw a bit too.
The fullback spot continues to be a battle of Joey Phillips and Martin Scales and not enough was shown on Saturday. Riley Biero took a big lick on one reception though.
Marcus Davis busted out at wide receiver with six receptions and two touchdowns. It's clear in this scrimmage he was Thomas' number one receiver. His blocking was decent, but it was his ability in the field that really saw him break out, breaking tackles to get extra yards and beating the corners deep for two scores. He showed the ability across the middle on the slant too, an excellent route on his second touchdown.
Jarrett Boykin had two receptions, but one went for 39-yards and he made three men miss as he was hit with a quick slant and slipped through the defense. It was an excellent individual effort and perfect target from Thomas. Danny Coale only picked up two receptions for 26-yards and fumbled once on a punt return, losing it. In terms of his receiving ability on Saturday it wasn't the best. D.J. Coles looked smooth in the bit of opportunities he got only pulling down one reception for 11-yards. The only other receiver to get a reception on the day was E.L. Smiling who continues to be a big target, he adjusted well to one pass that went off his hands and is certainly flashing the potential, but is likely a year away still. Willie Byrn showed some good quickness on the ground on a reverse for 19-yards and helped break up a sure interception by Thomas by decking Detrick Bonner in the endzone.
With Chris Drager sitting it out, Randall Dunn and Eric Martin got plenty of work. Martin continues to be a strong blocker and was never spotted in the receiving game, but Dunn was and made the most of it, pulling down a 25-yarder, he looked particularly effective, and had a couple other opportunities, beating his man deep. There's no question Dunn is an effective threat in the pass game.
The depth saw Jerome Lewis get some time and he looked tenacious as a blocker, he was getting far more aggressive than he has shown earlier in practice, though that also saw him getting a blatant holding penalty too.
It wasn't a great day running the ball from the offensive line. The starters were relatively solid. Blake DeChristopher and Jaymes Brooks were very reliable and Andrew Miller had his time, once holding a great block in the middle allowing Thomas to step up on a deep throw. It doesn't look like Miller is anywhere close to giving up that job to Michael Via. Via has struggled a bit at the spot, but still was one of the more consistent backups. The one starter that has really come on and has taken hold of a starting job as well is Andrew Lanier, he showed good movement and for the most part had a very good day, he needs to keep his engagement, once almost giving up a sack, but otherwise he has a firm grasp on the tackle spot. Rounding out the group of starters is David Wang and he continued his strong, aggressive play of the spring.
In terms of other backups, Nick Becton seemed to especially struggled against the likes of Duan Perez-Means on Saturday giving up the edge a number of times. He won some and lost some, but he looked a bit slower out of his breaks. Courtney Prince looked improved and more comfortable than earlier this spring, while Vinston Painter has clearly taken a step forward showing some nice footwork against James Gayle and the ability to run down the line on multiple occasions, it seems obvious he's going to play this year.
Caleb Farris is another name to watch. He saw late spot duty at center and was real aggressive getting a nice push inside against the second team especially Kwamaine Battle. If Farris continues his play he's got a chance this fall.
Further down the list was improved play from Laurence Gibson, though it was up and down still, but he showed flashes he is coming on as a player and his technique and physicality were improved. Matt Arkema saw time late and though he moves well, gave up the middle on occasion. Mark Shuman also had his moments, as did Dale Davis in reserve duty.
Along the defensive line, J.R. Collins was the impact player posting two sacks and three total tackles. He was extremely aggressive off the edge showing a nice array of moves, an impressive spin and at times was unblockable as he wreaked havoc on the White team offense, he added a hurry and a forced fumble too. Even on his tackles it was tenacious throwing his man to the turf. Duan Perez-Means posted half a sack and got some good pressure consistently on the day as did James Gayle who posted one sack.
Further down, Zack McCray provided some good pressure once rushing Thomas and another time getting a good shot on Trey Gresh. He showed an improvement in the final practice. Justin Taylor showed some nice pressure off the edge as well and was very effective with his run defense. Tyrel Wilson got his shots late showed improvements beating his man a couple times.
Inside, Antoine Hopkins had a breakout game with some good aggression up the middle with 1.5 sacks. Hopkins showed a sense of getting upfield and he even beat Blake DeChristopher, his battle with him was a strong one. Derrick Hopkins was disruptive again though his statistics didn't reflect it, he was in on a number of tackles in the backfield. Kwamaine Battle showed some good athleticism, but did struggle at times against Farris late. The fourth defensive tackle continues to be a question mark as Isaiah Hamlette had his spots and Nick Acree got his chances late displaying some pursuit.
Barquell Rivers once again got the start at linebacker and looked a tad faster in this scrimmage, displaying the ability to defend sideline to sideline, chasing an early run out for a minimal gain. He's still coming on, but it's signs he's improving. He made a few other tackles and a pass breakup. Perhaps the biggest player of the day though was Telvion Clark who stepped up with nine tackles and was very active in the middle.
Jeron Gouveia-Winslow and Alonzon Tweedy continue to be in a battle as both performed well. Gouveia-Winslow recovered Hopper's fumble and provided good pressure on the outside. Tweedy had his moments as well, providing some good pressure and breaking up a pass.
Tariq Edwards was particularly active early showing outstanding run support to the sideline chasing a few plays down and was aggressive on the blitz picking up a sack. He made a great deflection on one play taking a ball in the chest as he came hard. He did well in coverage too.
Down the roster, Chase Williams stepped up with some good run support, while Dominique Patterson stepped up with a big day. Tech often blitzed Patterson who came extremely hard from the whip and seemed to be disruptive quite a bit posting five tackles. Nick Dew had a mixed day, missing a tackle on one play, and then the next making a good one on E.L. Smiling.
It was a particularly busy day from the cornerbacks. Jayron Hosley wasn't really tested at corner, but Kyle Fuller was and his coverage was extremely tight on Saturday. Fuller added an interception on the day on a tip and he showed very active hands. Cris Hill looks to still be the third corner after Saturday's scrimmage pulling down a tipped interception and forcing one fumble. He did get beat a couple times against Marcus Davis though both for scores. The light came back on for Detrick Bonner this week as his coverage and aggressiveness were clearly improved. Bonner made a terrific individual play popping a slant out early on Thomas' first interception. Bonner posted five tackles and overall was real tight in his coverage even on Marcus Davis. That will be a hotly contested battle in the fall.
At safety, Antone Exum showed he is still a big hitter, he came like a dart on one huge hit in the backfield on Riley Biero, he still needs to wrap up though letting him bounce it off, while Eddie Whitley provided a handful of tackles on the day. Wiley Brown came up with an interception before fumbling it and Adeboye Aromire got his chances, occasionally getting caught out of position, but still being a reliable tackler.
In terms of special teams, Jayron Hosley looked to be in midseason form returning one punt 61-yards for a score. Cris Hill and Detrick Bonner were productive in returns for kickoffs.
The kicking duties saw Cody Journell who showed no signs of giving up the starting kicker job hitting his lone field goal from 26-yards. Connor Goulding put one in from 37-yards, while Matt Cass missed a 40-yarder extremely short. The kickoff job saw strong performances by Justin Myer and one deep kick by Cody Journell for 69-yards. Two of Myers for kicks went into the endzone, one out of it.
As for the punter job, that seems far from over now as the primary options on the day were Danny Coale, Ethan Keyersling and Scott Demler. Demler had a solid day averaging 41-yards per punt on three kicks and getting good hangtime, Keyersling had a solid 43-yard average, but the star had to be Coale who had three punts, a long of 53-yards and putting two of his kicks inside the five, though both rolled into the endzone, but showed good finesse bouncing at the goal line. He finished averaging 44-yards a kick.
The Hokies will return to practice in August in preparation for the season opener on September 3rd against Appalachian State.