Thomas, Gayle, Wilson highlight first scrimmage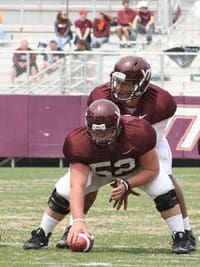 Virginia Tech held their first open scrimmage on Saturday afternoon which saw a handful of highlights from both sides of the ball. The scrimmage featured an excellent fourth and 17 conversion by Logan Thomas and a huge 60-yard touchdown run by David Wilson that was called back, not to mention two sacks by James Gayle.
Thomas was the star of the day completing 8-of-14 passing for 75-yards. Thomas looked cool and calm in the pocket, completing a number of darts down the field. The biggest of which was a fourth and long conversion to Marcus Davis for 22-yards. As expected, Thomas had excellent zip on the ball, putting it where his receivers could get it. That's not to say he had a perfect day, he was under pressure a few times, threw one bad pass that nearly was picked off by Kyle Fuller where he clearly went the wrong way with the ball. Two other passes were overthrown an appeared uncatchable. Still, it was a solid start to spring practice for Thomas on the day.
Due to seeing no reps in recent days, backup Ju-Ju Clayton didn't see the field in the scrimmage even though he dressed out. In addition, with Ricardo Young in crutches on the sideline, that left Mark Leal and Trey Gresh as the quarterback options on the day. Both saw significant time.
Leal was inconsistent, even though he completed 6-of-11 for 34-yards. A number of his passes were floating on him in the scrimmage and he was often on the run as well. At times he looked a bit like a deer in headlights, though his arm looked strong and he appeared to have some quickness to escape pressure. Gresh made a few nice passes the biggest of which was a touchdown to Randall Dunn for 69-yards, but really impressed with a nice 15-yard run to the sideline too. He finished completing 4-of-8 for 96-yards, but had a tip that went to Brian Laiti for an interception.
At tailback, David Wilson had a strong day. The highlight was a huge 60-yard run that was called back due to holding where he ran down the sideline and broke a tackle for the score. Wilson had his moments as a receiver and blocker too, showing some nice aggressiveness inside in limited duty.
Tony Gregory was out with injury, which pushed James Hopper and Josh Oglesby into duty. Oglesby showed what he is capable of, a bruising runner that can pick up tough yards going for 32-yards on eight carries. He had a nice reception on a swing too taking a big hit from Edwards. Hopper in brief opportunities showed some nice explosion in the hole for 23-yards. Blocking for both was relatively limited. Further down the depth chart, Daniel Dyer made a few nice runs late in the scrimmage and showed the ability to take a hit, he finished with 70-yards.
At fullback, Martin Scales looks to be pushing his way to the top spot. He provided a couple outstanding blocks to open holes. His blocking is looking consistent. Joey Phillips had a good day too, but Scales looks to have the advantage in this race so far. A name to watch is Greg Gaddell who is a tough, but small runner and isn't afraid to put his nose in there.
Jarrett Boykin and Dyrell Roberts didn't go at wide receiver due to injuries. Not surprisingly, Danny Coale made a few outstanding grabs, most notably a diving pass pulling the ball away from Bonner. He did beat the defense once, getting behind the secondary, but dropped the pass. Marcus Davis made a couple nice receptions and D.J. Coles had his moments too, the blocking from the three was quite good too.
In terms of backups, E.L. Smiling, Corey Fuller and Willie Byrn got quite a bit of time in the contest. Smiling looked bigger and made a nice sideline grab, his blocking was solid too. Though Byrn is small, he's got wheels and isn't afraid to put his nose in and block. He showed good quickness on an end around. Fuller beat his man to the corner once, but couldn't get under it, he's got good size and speed though.
The tight end position saw Chris Drager take over and it's clear he's still adjusting to the position a bit. His blocking overall was solid, but he didn't have a reception on the day and didn't get out into the field much in this scrimmage. The backups seemed to help their cause though as Eric Martin looked very good as a blocker one time riding J.R. Collins, while Randall Dunn had one of the better days on offense, proving to be a smooth, reliable receiving threat and got after it as a blocker. His blocking looked improved and he stretched the field with a touchdown on one play getting behind the defense. He finished with 82-yards on just two grabs.
Jerome Lewis and George George saw time; George had his moments in limited duty. Lewis seemed to struggle still with his blocking, but as a receiver he was running good routes and getting open. He even made an acrobatic catch on a tipped ball that went to his hands on one occasion across the middle; it was an excellent display of awareness by him.
For the offensive line, the starting unit looked good especially Blake DeChristopher, Jaymes Brooks and Nick Becton. Becton got the start and seemed to dominate much of the day. His footwork was very strong and he showed good athleticism at the tackle spot, he seemed to get the first team reps the entire day. The only notable misstep was a DeChristopher false start.
The other starters, Andrew Miller and David Wang played well too. They had some trouble slipping with the wet field, but they were consistent. Wang showed good leverage on the day and his aggression is clearly up, he was making holes for the tailbacks. There was one occasion where he lost leverage on Hopkins and gave up a lot of pressure. Miller had a bit more of a mixed day. His snaps were reliable and it's clear he's coming on, but it's early in camp and he's still getting the hang of things. His blocking though was good.
For backups, the most notable has to be Michael Via, he played well at tackle and center. He dominated at times including one-on-one versus J.R. Collins and showed the ability to lock up his man. Vinston Painter was up and down, he looked good on a few plays showing good footwork before getting beat bad on the next. The rest of the linemen especially the youth had their moments, but it was inconsistent. Mark Shuman had his moments, but overall the unit including Caleb Farris, Matt Arkema and Laurence Gibson are still learning.
Defensively, the starting line was very strong on the day. James Gayle was arguably the most disruptive player on the line, showing an outstanding ability to not give up on the play, chasing a couple plays down from the backside one for a sack, one of his two. The sack came on an outstanding chip unintentional spin move that got him to the quarterback. He added three tackles on the day. Not to be outdone was J.R. Collins who for a time was utterly controlling the edge. Collins did see time inside at defensive tackle briefly but seemed to struggle there and was far more effective on the edge.
The backups at end had their moments. Zack McCray was up and down. He showed an outstanding move inside to get a near sack on Mark Shuman, but struggled at times one on one. Still, you can't deny the speed he brings to the field. Duan Perez-Means showed some very good pursuit on the day with five tackles and he's coming along at end. Tyrel Wilson had his moments as well.
Inside, Antoine and Derrick Hopkins had big days. Derrick Hopkins was extremely aggressive and hard to stop, showing his patented burst up the gut on a few plays, catching a couple down in the backfield. Antoine Hopkins had his moments too with a couple solid stops.
Kwamaine Battle clearly has some added weight, but still looked athletic and made a few stops in the middle. He showed the ability to go to the sideline. Isaiah Hamlette displayed good pursuit on a couple plays as well, while Nic Acree is real lean now, dropping significant weight. Acree made a couple plays inside and finished with five tackles, but he's still got a ways to go as he still appears to play a bit high and was getting pushed around at times. There's no denying his physique though.
The linebacking corps was hit hard with Bruce Taylor and Jack Tyler out. That led to Barquell Rivers getting the start at mike and he had his moments, making a couple nice stops in the middle. He finished with seven tackles. It's clear he's got some added weight with his time off, but his quickness was impressive for being out so long, but whether he is a factor when Tyler and Taylor return is hard to say at this time. Brian Laiti backed him up and the highlight of his day was an interception he pulled down.
Jeron Gouveia-Winslow looked bigger already and was very aggressive on the day. He looked like he has taken a step forward already and showed good pressure on the edge. Backing him up was Alonzo Tweedy who had his moments, but less tackles on the day. He had position on Wilson's big run, but slipped. Dominique Patterson and Nick Dew saw time and Dew slipped on a pass to Corey Fuller. He did provide some nice pressure though.
On the other side, Tariq Edwards looked real tenacious and though he's a tad lean, he made a number of tackles from the backer spot. Chase Williams provided some solid support as a backup, while Telvion Clark was a bit up and down, but had a huge hit in the hole on one play. One other player to note was Jonathan Halfhide who is small, but isn't afraid to put his nose in there. He packs a nice punch.
The secondary though limited is extremely talented. Jayron Hosley saw limited time, but posted seven tackles and a sack on the blitz, but Kyle Fuller had his moments and continued his excellent play. He looked bigger already than last season and had a deflection and a near pick on another play. His tackling was extremely good too, making a hard hit on one play.
It's obvious Detrick Bonner has moved to be the No. 3 and likely nickel corner for the Hokies. He was all over the field on Saturday and his man coverage is extremely tight. He is a hard hitter too and it's clear the light has turned on. Cris Hill was a tad inconsistent, making a couple nice tackles, but being forced to chase a couple down from behind.
The safety spot saw strong showings from Antone Exum and Eddie Whitley in limited duty. Both had some great pursuit tackles, but showed little in coverage. Whitley was a particular ball hawk with five tackles. Theron Norman went out late with a shoulder injury, but otherwise was very solid on the day, he was around the ball a few times. Wiley Brown showed a knack for playmaking, while Adeboye Aromire was at safety and had his moments, playing some tight coverage including the drop by Coale. Aromire clearly can play, though he did miss a critical tackle on Wilson's big run.
The special teams battles appeared to get a bit clearer on Saturday as Cody Journell showed good leg as a kicker and nice boom, though his kicks were a tad low. Conor Goulding missed wide right and others struggled too. The holder was Trey Gresh and he appears to be the likely candidate for that job.
In terms of the punter, Ethan Keyserling showed good hang time and he looks like he's making big strides for the spot. Interesting note was that Danny Coale saw brief time as a punter on the day.
Virginia Tech will hold a second open scrimmage on Friday night at Lane Stadium. Kickoff is set for 7 p.m.