New Virginia Tech football offer: Amory Hills
Virginia Tech has offered Baltimore Milford Mill 2025 offensive lineman Amory Hills. Here's a quick look at him.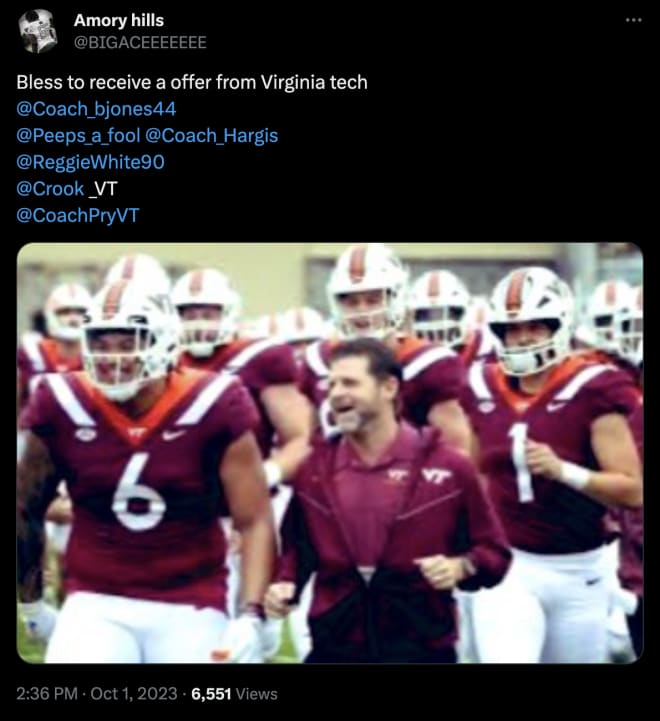 Not a HokieHaven.com subscriber? Join today for access to all our premium content and message board community. Already INSIDE? Join the conversation on The Gobbler!
Other offers
Boston College, Colorado, Akron, Charlotte, James Madison, Marshall, UMass, Campbell, North Carolina A&T
The latest
Hills visited Blacksburg for the win over Pitt Saturday and was offered by the Orange and Maroon in the aftermath. He already has a pretty robust offer list, including a couple Power-5 options (though his Colorado offer came from the previous coaching staff), so the Hokies will have to continue impressing him to remain right near the forefront of his recruitment. After the atmosphere he experienced Saturday night, though, VT should have plenty of juice to be a factor here.
Film
Game breakdown
Hills is a huge offensive lineman who has the feet to be very mobile, though at this stage he needs more reps to get the patterns down right, and take out some of the awkwardness in his movement. He tends to cross over his feet even in zone-blocking, and that will allow better opposition to wrong-foot him and either knock him over or get around him. Thanks to his size, he has good natural strength (and the momentum on the basis of how he can get moving). He's shaped more like a guard than with the long-armed, tall-chested physique of a tackle, and on the interior, his athletic ability should make him devastating in zone or pull-gap schemes when he's a finished product.