Justin Fuente transcript: National Signing Day 2018
Not a HokieHaven.com subscriber? Join today for access to all our premium content and message board community.
Justin Fuente met with the media yesterday to discuss his 2018 recruiting class and more. Here's what the Head Hokie said.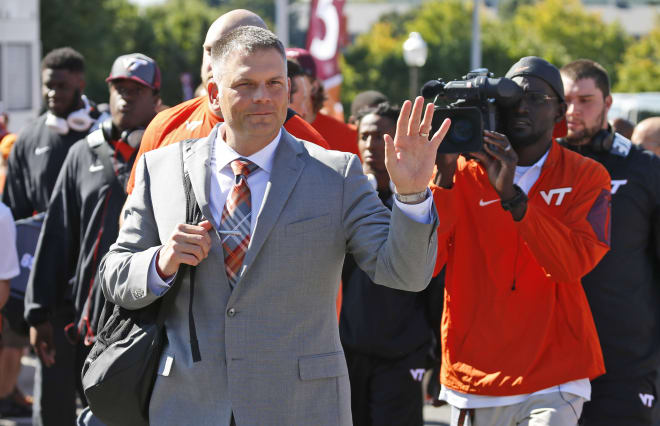 Opening statement
"Before we jump into recruiting and since it's been a while, I want to cover a few things. First of all, I just want to take time to thank Whit [Babcock] and Dr. [Tim] Sands for their faith in me and our staff. I know it is an honor to work here and coach here and I don't take that for granted or lightly. To be wanted and to award our coaches for their hard work speaks volumes about our leadership. I just wanted to say thanks for that.
"We got a lot of great things going on right now. We have donors stepping up to help us continue to push this program forward, in terms of our weight room project and our fourth floor project. I just think there is a lot of excitement and momentum going our way right now to continue to build this football program. We've got great things ahead of us and time is running out for us to reap some of the benefits of stability in kind of the rough waters of college football. That's what we are all excited about.
"We have an addition to our staff, Adam Lechtenberg, for a lack of a better term, will be in a general manager role. He's our on the field coach and our 10th assistant coach. Nobody knows our program better than Adam in terms of what we are looking for in recruiting and contacts in various parts of the country for evaluation. And he is also a talented football coach who is going to have his hands in a little bit of everything. It was an interesting deal when the 10th coach passed and there was a bunch of different ways we could have gone. We really, really looked at it and conducted the pros and cons, and we felt like this was the best thing for our football program moving forward. I'm excited that he has moved into that role. Obviously Justin [Hamilton] has come into that role, a former player to help with the defensive side of the ball and serve some roles in recruiting. I think he is a young and talented coach, as well, who has a really, really bright future. I'm excited to have him and his family in Blacksburg.
"We also shifted around titles a little bit, and I want to address that before we move further. As all of our coaches through this offseason were approached by different places about jobs and that sort of stuff, and I was having a conversation about Bud [Foster] and all of that, not necessarily about Bud, but about everybody else on our staff. He expressed a strong desire to have Coach [Galen] Scott in that room. I think they formed a pretty special bond, obviously Bud can get into the specifics about that, but they really hit it off so to speak. Bud actually brought up ways to try to make this a more appealing place for Galen. The co-defensive coordinator title, he brought that up. After I thought about that for a little bit and talked to Bud a little bit more, I thought that was fine. I don't know if it changes the dynamics in our room at all, I do think it's deserved. I think it is warranted for how he has helped over the last couple years. I think it was a testament to Bud and his selflessness and humility that he suggested that in order to keep or help keep a very talented young coach on our staff. We have many, many coaches who have really bright futures and we know that we won't be able to keep them all of the time. But we have, like I eluded to before, become kind of like a stable ship. I think that speaks volumes about our staff and our guys and our selflessness and egoless in our room, and I'm really proud of all of that.
"Lastly, this is the first time I've talked since Coach [Frank] Beamer was elected into the College Football Hall of Fame, it really is fantastic to have a hall of fame coach living in our community. Obviously, what he did here at Virginia Tech was unmatched. I just want to congratulate him, obviously well deserved. I'm looking forward to going to New York and getting to see it and be a small part of that whole event.
"Signing day, with it being our second wave and our first trip through all of this with two signing days, I'm excited about our class a whole. Our coaches worked incredibly hard. I'm not sure everybody understands what it takes to put on an official visit, in terms of the amount of man power it takes across campus from our teachers to our professors helping out to people in academics to strengths staff and training staff. A big thank you to the entire support staff that helped do this. I'm excited to get all of those kids in. We already have 10-12 early enrollees right now working hard and I'm excited to get the whole group together and get to work."
On a lot of schools making a late push for Dax Hollifield
"Dax was highly coveted by a lot of people, part of that is because of the talent he has on the football field, part of it is because of the type of worker, competitor and student he is. We felt good the whole time about Dax, but you never take that side of relief until it is all done. We had a conversation this morning on the telephone that solidified things that kind of made it for certain that this was going to happen, and we are all excited. Bud played a big role in Dax's recruitment for many years now, and did a fantastic job of developing that relationship. I also think it is an example of Dax seeing the vision and the future of Virginia Tech football."
On the linebacker position taking a hit with departures and if that opens the door for Dax Hollifield to play early:
"Well, it will be interesting to see. We have five guys, we lost our starters and their backups. We don't have a guy on our roster that has played a meaningful rep at linebacker. So, I would say that competition is pretty open and we will see how it all plays out."
On if the team has gotten an answer on Kyle Chung's sixth year of eligibility:
"Not officially, we feel really, really confident that everything is going to be fine. I think they asked for a little bit more information the other day, got an email about it. We feel pretty good about the whole thing, but we have not heard officially."
On if the recruiting profile of Virginia Tech has been lifted since his arrival:
"I do and I think a part of it is a function of stability. There was a time when there was just uncertainty at Virginia Tech. Coach [Beamer] had been here for a long time and it was just uncertain. I think there Is a little more stability. I think we have a chance to capitalize on that. We are now in our second year of developing those relationships. We are around kids at a younger age now and I think that's helping as we continue to devote money to our facilities, that continues to help us. I mean we have a great game day atmosphere, we have a fantastic tradition but we have to continue to build on those things, we have a great school to sell, so I do feel like it's continuing to get better. To go into Chicago and to pull out a young man like Quincy [Patterson] and go into North Carolina pull out a young man like Dax, I think speaks volumes about the perception about this place, about what it can be and what it's going be in the future."
Cam Goode seems like a personality on twitter, is he also like that in real life?
"He's a big personality for now [laughs]. No he's a joy to be around. We've had him in camp, they worked incredibly hard. He's one of those guys that's popular in their school because he's got a great personality. You've probably seen him dancing at what I believe was a basketball game or whatever. He's just a fun guy to be around and has just one of those personalities that people are genuinely drawn to."
Do you feel like incoming freshman are more prepared than they have ever been?
"Well, I think there have been a couple things that have happened recently that have helped them out. In terms of the number of kids that are enrolling early. It used to be a few elite academic kids and that was usually just quarterbacks that would try to graduate a semester early and come in early. Now It's not like that, it's like 10 or 12 guys every year that want to come in a semester early because they don't play basketball, baseball or don't run track. I think that certainly helps those kids to gives them a chance, it doesn't mean you don't come in a semester early you won't have a chance to play. It doesn't mean if you do enroll early you are going to play.
"I think there is a select group of kids across the country that are just more developed. I would like for us to be known as a great developmental program. A program that does a great job of developing our kids in all areas of their lives. That doesn't mean they can't play as a true freshman but on average I haven't seen a large spike in the last 10 years in kids being ready to play all positions. There may be a position or two that there a little more developed with all of the 7-on-7. Maybe wide receivers and a couple quarterbacks have taken so many 7-on-7 repetitions that they're a little more developed."
It looks like AJ Bush is going to transfer, what precipitated that?
"Well we just had a meeting with AJ and laid out his options and what he could do, he's pretty close to graduating. If he really wanted to go and play quarterback, then laying out a plan for graduation so we could go do that. If he wanted to stay and still continue to be on our team and maybe work at some other spots then we were open to that. We certainly wanted him to get whatever he wanted. He's still on scholarship right now, taking quite a few classes and it may leak over into the summer time to let him graduate and ultimately go play quarterback."
How did Vinny Mihota's knee surgery go and do you know the guys who will be out for the spring?
"There are certainly guys that will be out for the spring. From what I can tell Vinny's surgery went well, he's been moving around. It's been good for him in terms of his upper body. He had two shoulder issues last year and I think it hurt him in his upper body development. He did a great job getting back and getting ready to play. Not that his injury is a good thing but the fact that it wasn't an upper body injury I think is letting him catch up a little bit, maybe get a little ahead in his upper body strength. He won't be out there in the spring and he is doing well and by all accounts the surgery went well."
Is there potentially a position change coming for Caleb Farley in the spring?
"Well we have just gotten off the road and we'll look at all of that stuff and see where it falls. How much or how little Caleb will be able to do in the spring I don't know. I see him running around out there and he looks great but he's not playing football, he's just running. He's been running and lifting and getting better. As we get closer to spring we'll have all of those personnel discussions and all of that sort of stuff but we haven't done any of that yet."
DL Jaevon Becton was a guy you guys had been targeting, when did he re-enter your radar?
"We had been in contact with him, quite honestly we wanted to evaluate him further. We liked the kid, Joe Jones is the head football coach over there and does a great job, is a Hokie and we were upfront and honest that we just needed to continue to see him. He had a really good year we felt like, made some large strides so we tried to enter the race again so to speak and then all sorts of things happened with his recruitment around the first signing day. People coming out of nowhere and him trying to manage all of that stuff. Our recommendation was just take a step back from this, relax and once you come see us in January let's take stock and where you're at before you rush into a decision here in December. That's what he did and I'm awfully happy that's what he did."
Now that you have been through this new recruiting cycle are you for or against it?
"Yea I know it's really different, it's a little hard to get used to. You know my initial reactions were my Christmas break was great so selfishly. We had 24 guys that had already signed, we were still working on some other people but we diminished the number a lot over Christmas break so selfishly I enjoyed that part of it. I just get a little bit concerned about the kids, in terms of it being early. I think in general terms I'm really fine with it. I probably have a much bigger issue with the official visit situation. We have eight months now of official visits. It's not about me and my weekends, we work quite a bit but to me it's about all of those people I alluded two earlier that go on into putting on official visits. Now you have your academic people on call eight months out of the year. You have your equipment managers on call eight months out of the year for their weekends. You have professors across campus, your training people, and your nutritionist. The amount people kids come in contact with on an official visit. Obviously we're trying to encapsulate everybody that is going to touch them on a daily basis. To have those people have to be ready eight months out of the year I think is a little much to ask from those people. Against it's not about me and the coaching staff, we understand our jobs that's a part of it. It's all of those auxiliary people that go into making official visits. I guess it just doesn't make sense to me to move the signing day up a month but move the visits up that far. My kneejerk reaction right now is that it's fine. It seems to have gone smoothly but I don't think we need to just put it away and not continue to evaluate it."