Fall Practice Report: Injuries start to pile up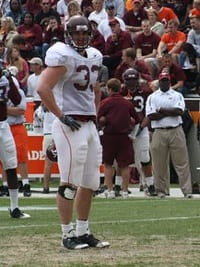 Virginia Tech has been practicing for nearly a week now and are quickly approaching the first full scrimmage on Saturday. Injuries are starting to take their toll particularly at the whip linebacker spot which is wreaking a bit of havoc on the depth chart.
Quarterback
There is little question about the top spot as Tyrod Taylor continues to command the offense as the starter. Fall practice is largely focused on who will take the backup quarterback spot. At this point in time the coaches haven't given the nod to either Logan Thomas or Ju-Ju Clayton, although coming out of spring Thomas appeared to have the edge. Both players have progressed early in camp and neither exactly excelled with second and third teamers in the first scrimmage Wednesday night. Certainly the scrimmages including Saturday's will be critical to both players role, as Tech will try to make a decision sooner than later to give the true No. 2 backup more reps. In addition, Thomas is finding a role as an H-back/tight end/receiver as well and making some early strides there in order to see the field in some capacity this season.
Running Back
There is little doubt on the top two spots, as Ryan Williams and Darren Evans will get a large majority of the carries this season. Darren Evans hasn't shown a lot on the field yet, but all signs are pointing to him being back to normal.
The biggest news of the week at tailback is the departure of Kenny Lewis Jr. who has decided to give up football. That puts Tech with four legitimate tailback options with Williams and Evans followed by either David Wilson or Tony Gregory vying for the No. 3 job. Wilson has put his best foot forward in the first scrimmage Wednesday night running for 41-yards on ten carries. If Gregory performs admirably in the scrimmages, it's not out of the realm of possibilities that Wilson redshirts this fall.
The fullback spot continues to have Kenny Younger leading the pack. Josh Oglesby has so far taken to the role and may see a number of variations in it as he currently sits No. 2 on the depth chart.
Wide Receiver
It's no surprise Tech continues to have a solid top three with Jarrett Boykin, Danny Coale and Dyrell Roberts leading the way, despite the fact Roberts missed much of the first week due to a minor injury. Of note, Boykin has really impressed so far in camp showing even better athleticism than expected.
Meanwhile, the No. 4 spot is a heated battle between Marcus Davis and D.J. Coles, both have impressed early on in practice, but as with the other battles, scrimmages will likely be the key. If Coles slips a bit, he could find himself a redshirt this fall, but that is far from decided. Perhaps an even bigger question is the role of Xavier Boyce who is still a bit lost in the shuffle. Not to go unnoticed is true freshman wideout E.L. Smiling who is showing out early on, he is still expected to redshirt.
Tight End
Andre Smith continues to be dominating the starting spot, but the backup position is far from determined. The edge for the No. 2 job appears to be on Eric Martin, but scrimmages will be important.
Jerome Lewis came to camp a bit out of shape, but is a gamer and impressed on the field so far including picking up some blocking assignment early. Lewis could be on his way to earning the No. 3 spot, but don't rule out Randall Dunn who pulled down three receptions in the first scrimmage as well as Prince Parker who is in the mix of the competition.
Logan Thomas brings a new dynamic to this race as he is starting to see time at the tight end spot to provide further depth and options on the field. Thomas has performed well in his limited opportunities so far.
Offensive Line
The biggest news of the week was the injury to starting tackle Nick Becton who is expected to miss the next two weeks due to a turf toe injury. Becton is missing quality practice time, but is expected to be ready for the first game against Boise State on September 6th. Andrew Lanier is getting the start in his place and has performed well.
Meanwhile, center Michael Via is coming back from an ACL injury and is just starting to practice, how quickly he'll get back and be healthy enough to really practice continues to be a major item to watch. Whenever Via comes back, it's not unreasonable to think he may be able to move to the outside to provide further depth. That is due in large part to the fact that Andrew Miller is taking to the center position so far early in camp in a backup role to Beau Warren.
The other starting spots are solidified with Greg Nosal and Blake DeChristopher, both coming in a bit heavier this season. In terms of the other backup spots, Laurence Gibson continues to hold down the top spot at right tackle, while Vinston Painter is showing improvement early in camp. True freshman Mark Shuman has shown well early on too, but it's still doubtful he'll break into the two-deep.
Defensive Line
The defensive end positions are pretty well solidified at the top with Steven Friday and Chris Drager. Drager has performed well so far in camp. Right now the backup spots appear to be J.R. Collins and James Gayle, however Gayle is missing time due to a hamstring injury. He's expected back perhaps as soon as the scrimmage on Saturday. Speaking of Collins, he has dramatically improved at the start of camp and playing much faster now.
The battle continues to be between Duan Perez-Means, Zack McCray and to a lesser extent Tyrel Wilson for the fifth spot on the depth chart. McCray has impressed early in camp displaying his outstanding speed off the edge, while Perez-Means is still not quite getting his technique down. If McCray keeps it up, he could be working his way into a showing with the travel team.
As for the tackle position, John Graves holds one starting spot and right now it appears Kwamaine Battle is pushing for the other start due to his improved speed. Antoine Hopkins is in the mix. However, the fourth defensive tackle is up in the air, who will emerge from Dwight Tucker, Joe Jones, Isaiah Hamlette and Derrick Hopkins? Speaking of Hopkins, the true freshman is performing well early on in camp. Also of note, true freshman Nic Acree is expected to redshirt this fall as he's still taking everything in.
Linebacker
The starting spots are pretty well solidified at all three linebacker positions, however depth at the whip backup position is wide open with Alonzo Tweedy and Lorenzo Williams out with injuries and both have yet to perform in practice. When they return is unclear. Zach Luckett has made a quick return from a major knee injury late last season and is now in the No. 2 spot at this time even though he's not quite at 100% yet. He appears to be playing well and healthy in camp to date. It's still a question since he's coming off a major injury. With that being the case, the depth at whip is pretty slim. In a move to help that cause, Tech moved true freshman D.J. DiNardo to the whip position.
Barquell Rivers is expected to return early in the season, but it's unclear when at this point. In a few other notable moves, true freshmen Dominique Patterson and Brian Laiti are working out at backer and mike respectively.
Secondary
Jayron Hosley missed camp up until recently due to a groin injury. He is in a battle with Cris Hill for the starting duties opposite Rashad Carmichael. Kyle Fuller and Detrick Bonner have performed admirably at this point.
At the safety spots, it looks like Tech is leaning towards redshirting Theron Norman with Antone Exum and Eddie Whitley in front of him at free safety. Norman at least made a case for a spot in the depth chart pulling down two Ju-Ju Clayton interceptions in Wednesday evening's scrimmage. The rover spot has true freshman Nick Dew working out behind Davon Morgan and James Hopper. Dew has gotten some notice early on in camp.
Special Teams
Neither starting punter or kicker position has been solidified to date; both will come down to scrimmages and how the players handle pressure. However, Chris Hazley is performing well and looks to be on his way to earning the top spot at the kicker position especially after holding off Cody Journell with a 53-yarder on Wednesday. The kickoff specialist is between Justin Myer and Conor Goulding, while the punter position is still unclear with Brian Saunders leading the way in a very open race.