Cowboys Coach Breaks Down Danny Coale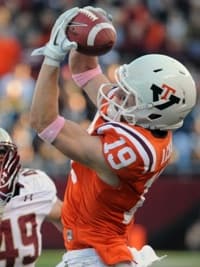 Virginia Tech senior wide receiver
Danny Coale
wasn't at the top of the wide receiver class in this year's NFL Draft.
But even while top wideouts like Oklahoma State's
Justin Blackmon
and Notre Dame's
Michael Floyd
were taken in the first round, one team was among those keeping a close eye on Coale.
The Dallas Cowboys had been watching Coale's progress for months. With the 17th pick of the fifth round, No. 152 overall, the Cowboys selected Coale, the Hokies' sure-handed wideout.
"We study several receivers and as coaches, we have between 20-30 guys to look at," Dallas wide receivers coach Keith O'Quinn said. "We probably figured that if we did take a receiver, it would be around that mid-round spot. We certainly thought Danny had value in that range. We weren't gonna take a Justin Blackmon at an early pick, but where we thought about taking a receiver, he was ranked high. Everyone liked what they saw from Danny and we're happy with having the opportunity to take him and him being a part of our organization."
Since Coale was drafted April 28, he's been working towards earning a spot on the roster with the Cowboys. He's participated in a mini-rookie camp and after a week off, returned to the team Monday for meetings, teaching sessions on field and workouts.
O'Quinn said the Cowboys have high hopes for Coale, the only receiver the team drafted.
He said Coale has the talent and ability to make an impact this season if he continues to improve.
"As a wide out, he's got good size, good ball skills," O'Quinn said. "We liked his versatility, being able to play inside and outside. He has excellent speed, ran in the 4.3s and is just a good route runner, a guy who can get open and make some plays.
"Everything we've seen so far, he's shown to be that. Above all, he was the right kind of guy. Coach (Jason) Garrett does an excellent job of bringing in the right kind of people and Danny is just one of those guys. You can see he's a very bright kid, very conscientious in meetings, taking notes and trying to learn."
Coale's best chance to make an impact will be competing for the third wide receiver spot, behind Miles Austin and Dez Bryant. O'Quinn said Coale will be among four or five receivers competing for spots on the roster.
"No one has jumped out and grabbed it at this point," O'Quinn said. "We're looking at that in OTAs, for some guys to emerge. I would say that Danny is certainly in contention for that. He's just a young guy and it's early. A lot of it is what they can learn. They have to be able to come in and grasp the offense. A lot of times, they have the physical tools, but mentally they're not ready. But we'll see."
In the short time Coale has been with the Cowboys, O'Quinn said he's been impressed with Coale's maturity and dedication. But there's still plenty of work to do before training camp in July and the start of the season in September.
"He needs to use every resource he has at his disposal, from the film, to the playbook, to the coaches, veteran players," O'Quinn said. "He needs to jump in with both feet and learn this thing as quick as possible. I feel like he's gonna do that just in the short time I've seen his habits in meetings and I see him as a guy who is gonna do that. Sometimes as a young guy, you don't get many reps, so when you do you have to take full advantage of it. You have to show that you know what to do and play. We haven't seen him go against guys who have been in the NFL, so it'll be interesting to see how he makes the transition."
Note: Not including Rivals' premium sites, do not copy/paste and or repost this column outside of Rivals.com, particularly on message boards, chat rooms and e-mails, as it is a direct violation of copyright laws. Thank you.